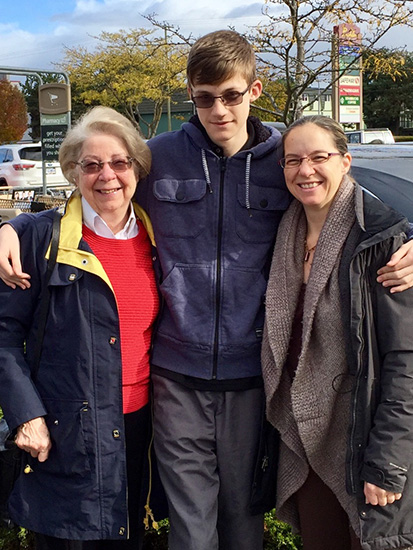 Apparently, I'm down to only blogging every other season. Snow arrived yesterday and I haven't said a word about Autumn yet!
Halloween was a lot of fun. Aly was collecting food for the food bank again this year. She even got a little bit of help from Zoe.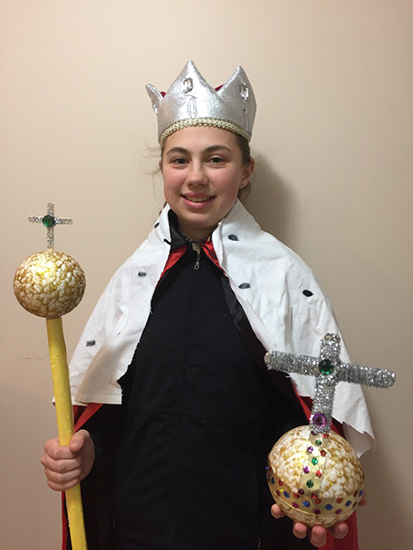 Aly as King George (for a school project)
Mum and dad came for a visit. It would have been a more relaxed trip than normal except for the amount of time I had to spend driving children around. For some reason, life had become a little more chaotic for the time they were here. Toby is job hunting as well as the usual 3-days of soccer a week. In addition to volunteering and working, Aly was also in a 3-day leadership conference. Even Zoe has started going to scouts which got added into the activity stream!
Unfortunately, the weather wasn't very good while they were here, but we did get a few nice days where the beautiful fall colours seemed to be apologizing for all the rain we'd had to put up with.
We did a nice trip to Lulu Island Winery for Dad's birthday. We used to live really close to this new winery but had never been further than the wine shop. We did a nice tour (with yummy snacks) and we had no idea that there were so many tasting rooms (some of them were huge). I didn't love most of the wine (but I'm not much of a wine connoisseur so don't read anything into that!), although the red ice wine was lovely.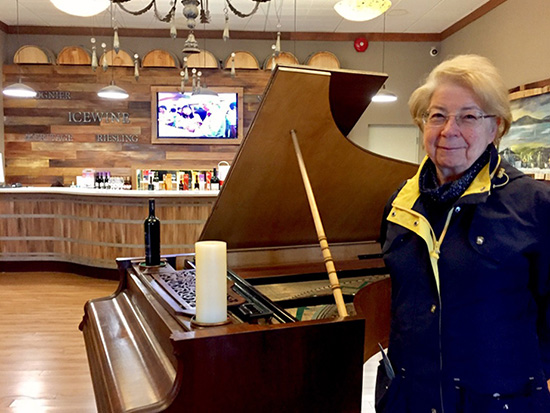 Mum and dad took each of the children out for a meal by themselves which I thought was a great idea. Everyone seemed to enjoy themselves (although they were a little horrified that they couldn't talk Zoe out of  choosing McDonalds!)
On Zoe's second week of Scouts, she went camping for the weekend. We weren't entirely sure how that would go – she only knew one or two kids and she's not the most easygoing kid when it comes to food.. or bugs.. or dirt. Anyway, she had a fantastic time and, apparently, the food was 'amazing' (ie. hot dogs, bacon and pancakes).
Virtual school seems to be going well for Toby. He's officially in grade 11 this year. He did a couple of grade 11 courses last year in the hope that he'd be able to complete grade 12 this year and then go traveling with Aly. Getting him out of bed in the mornings is not my favourite thing (I have a spray bottling chilling in the fridge for emergency use), but he seems to sit and focus well for most of the day once he's up. Due to course scheduling (and having to do a combination of semestered and non-semestered courses through 2 different online school), it doesn't look like he'll be completely done by the end of this school year but should be able to complete everything by the end of the summer. He has a lot less time to save up for the trip than Aly has, so he'll likely only be in Europe for 3 months rather than the 12-15 that Aly is hoping to do (unless he finds a job there).
In other news, I'm officially declaring the death of this blog for the end of this year. 16 years feels like just about enough. 2/3 of my children are now taller than me and rarely say super-cute things that need documenting! I'll leave the site up with links to my Instagram feed and will try to add a bit more text to my Instagram updates in future.
Speaking of Instagram, I'm almost at the end of my photo-a-day-for-a-year challenge that I set for myself. I think I may have missed one or two days, but on the whole, I'm so glad I've done it. I plan to print the year using ChatBooks so I've been trying to stick to one photo a day and no video. I'll probably mix things up a little more next year.