After Vegas, we spent a night in Mammoth. The drive in was beautiful but quite nauseating. It was the first time we'd needed to stop the car to give everyone some fresh air (well – very very hot air). It quite possibly could have been avoided since trusting our car nav without first checking with the all-great Google is usually inadvisable.
On the way out of Mammoth, we visit Mono Lake with it's weird, white spires sticking out of the water and ring of flies protecting its alkali water.
We got a brief glimpse of Yosemite as we drove out of town but didn't have time to stop. The last time I had been there was when I was pregnant with Toby.
The next stop was a winding road to the ghost town of Brodie. The town was so much more complete than I was expecting. It's completely abandoned with the exception of 2 ranger houses. What was strangest to me was seeing all the old furniture and crockery etc. with a thick layer of dust and springs sticking out of mattresses. I'm used to seeing all of these items carefully preserved in a museum behind some velvet ropes.
We made a brief stop in Carson City, Nevada before stopping in Reno for the night. We all had a lot of fun in the old-fashioned arcade. Sascha and I were delighted to discover our drinks were free at the bar in Reno, the slots seemed more willing to give us money, and as we were leaving the casino floor, we saw a masseuse doing the rounds to offer massages to the busy gamblers.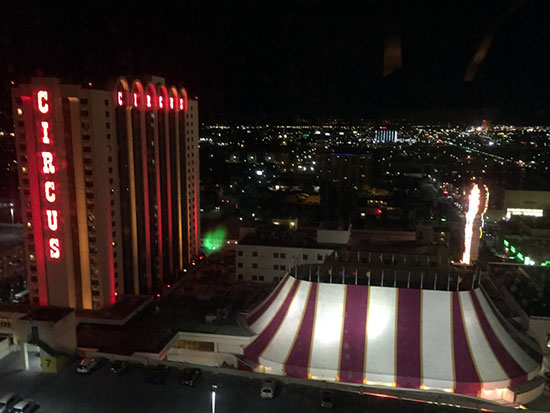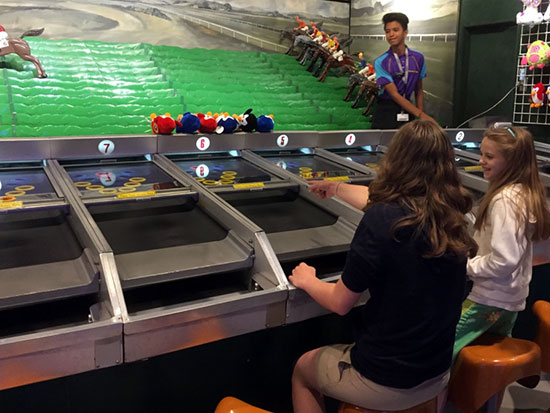 Next day we went to Lake Tahoe, California where we were only planning to take a quick look at the beach and maybe grab a drink but we quickly came to the consensus that nothing would be better than jumping in that lake to cool off. Sascha was dispatched to the car to unearth bathing suits, and before long Sascha was throwing each of us into the icy cold, but very refreshing, waters of Lake Tahoe.
After we pried ourselves out of Lake Tahoe, we had a long drive to Shasta Lake. We arrived just in time for sunset over the lake. Sascha and I had a nice meal at the Shasta Lake Lodge while the children ate Chef Boyarde and watched TV in the hotel room (I feel like it was a win-win for everyone).
Next day we had another long drive up to Florence, Oregon. We stayed at the Three Rivers Casino. By now, Aly was getting fed up of us leaving her to put Zoe to bed while we spent some quality time with the Larry the Lobsterman Slot Machines! It was a great hotel (including free pop which I didn't think was a particularly good idea but Toby was delighted by!). We were right next to the Oregon Dunes and went out into the mist just before sunset to explore the local dunes. We found an Army dredger dredging the channel, a dead, headless bird, various species of marooned jellyfish, and most interestingly, lots of driftwood shelters built by visitors which Aly and I played in.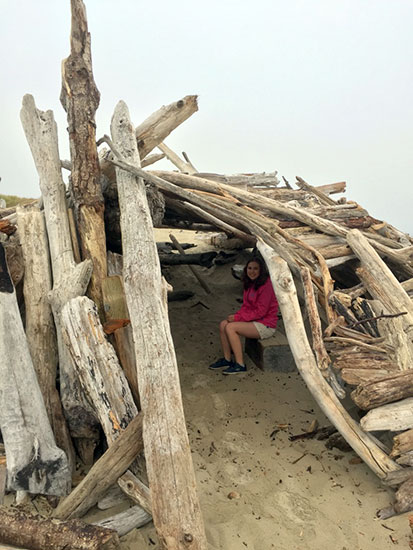 The temperatures in Oregon came as a bit of a shock since it was almost 20 degrees cooler than it had been a day earlier.
The next day we headed up the beautiful coast stopping to play in the tidal pools along the way.
After a stop in Seaside, Oregon for a play on the beach and some junk food we arrived in Ocean's Park, Washington where we were spending two luxurious days. I can't overstate the excitement of waking up in the morning to realize you don't need to start packing and dragging the kids out of bed. We spent a leisurely day. The boys golfed, and mini golfed while the girls went horse riding at Long Beach (my first time), kite flying and sandcastle building.
Finally, it was time to head back up to Canada. We drove up to Port Angeles where we caught the ferry to the Inner Harbour in Victoria. It was strange to in arrive in the centre of Victoria after so many years of getting the ferry to Swartz Bay.
We spent a relaxing few days in Saanich with family. The kids and Sascha went to the Saanich Fair. Aly and I went with Dani and Colin to Butchart Gardens for the first time (it was a beautiful, magical nighttime walk).
We also managed to squeeze in a day on the water where we sailed to Sidney Spit for a barbeque and some paddle boarding.
All too soon it was time to head back on the ferry for a day at home to prepare for school. It was a lovely trip and great to spend time with these teenagers that will be gone all too soon. Next year we're hoping to tag along with Aly and Toby for a week or two on their gap year in Europe.