On our way to Dinosaur National Monument in Utah, we broke up the journey with a stop at a lovely lakeside cabin in Wyoming (a big step up from the KOA cabin without water or cooking facilities).
We made it to Dinosaur National Monument mid-afternoon and hopped straight on the tram up to the dinosaur quarry. They had excavated a huge number of dinosaur skeletons and bones from that area – including one we'd seen at the Smithsonian last year, but they had decided to leave the final layer of bones in place. This means that visitors are faced with an enormous wall of bones (which they have built the visitor's centre around).
I had been dying to go to the Tyrell Museum in Alberta for as long as I can remember but this has definitely kept me happy for another few years. Dinosaur was so much better than I could have imagined and I'm so glad they were able to resist the temptation to remove the bones from the cliff.
On the way out of Dinosaur National Monument, we took a slight detour to take a look at some petroglyphs. They were great – there was a lot more than I expected and Zoe had a great time sketching them.
Our hotel that night was just outside of Dinosaur in Vernal. All too soon we were headed out of town on Stegosaurus highway. We had to drive through the town of Dinosaur to get out of town, past Dinosaur town hall and Dinosaur bible fellowship. This lead to some theological discussions!
We headed to Arches National Park which was spectacular. As is often the case, we all felt like we were in Disneyland – Cars Land to be specific (we know it's ridiculous). The scenery around each corner was more and more amazing. We got out to hike to the first arch with a short hike and just about died at the top of the hill in the 45-degree temperatures. We opted out of the next couple of hikes we were planning but managed to grudgingly pry everyone out of the air-conditioned car to stand under a final arch (which was awesome) before retreating to the car to drink gallons of water!
We'd passed through so many interesting biomes on our journey so far, although our introduction to Colorado was a mass of power poles supplying oil derricks as far as the eye could see! We really should come back sometime since we didn't get to see much more of Colorado on this trip.
After winding around some cattle on the open ranges of Colorado, we arrived in Blanding. We had finally decided to spend a few days in one place and had chosen Blanding, Utah to hang out, do some laundry, buy some groceries and cook some meals. We were delighted with our stay at Grandma's House; a quaint 2-bed house decorated with old finds from the house, photos of the 'grandma' that had lived here and memories of Grandma written by her grandchildren. As Zoe said, "it's like coming home." We were very happy we had decided to spend three nights here as the break from unpacking and repacking and dashing off somewhere was very welcome. We also took advantage of Grandma's surprisingly new washing machine! (The original wash board was carefully preserved on the wall next to the dryer!)
Blanding was a quiet town (some might say bland) – even quieter on a Sunday when only the gas station was open. I guess that explains the line-up at the movie rental machine we had been bemused by. Friday evening, the kids had been delighted with our trip to A&W to find out what they sell in American A&Ws since we are so familiar Canadian A&W. One of the burgers was the same (a Papa Burger maybe?), but the rest of the burger family were missing. In its place were things like a fish and chip basket. Everything also came with 'fry sauce' (which appeared to be thousand island dressing).
This particular A&W was inside a gas station and shared its space with a bowling alley and grocery store – quite the combo. As Toby said, it's all you could really wish for on a Friday night in a small town. As we were leaving the place began to fill up with cheerleaders and football players since the Friday night football had obviously just finished.
Next day we did a round trip to Mesa Verde. Mesa Verde hosts an impressive collection of Ancestral Pueblo dwellings. The Pueblo people inhabited Mesa Verde from 0-1300 AD but the Cliff Palace that we visited was inhabited around the end of that time. We had been tempted by a tour of Balcony House, but the 40ft of ladder climbing might not have gone done well with the family members who are less keen on heights. Personally, I found the steep steps and ladders of the Cliff Palace pretty awesome. (A mesa is a large hill with a flat top by the way).
At the end of the day, we took the long way back to Grandma's house and visited Four Corners (the intersection of New Mexico, Colorado, Utah, and Arizona). The actual intersection is on tribal lands and is surrounded on all four sides by vendors who welcome us to their particular state. I heard an interesting conversation about the legalities of what the vendors were and weren't allowed to do depending on which side of the square they were selling!
On our other day trip from our base in Blanding, we visited Bluff pioneer fort where the preserved homes had been furnished and decorated by the descendants of the original residents. We found a few more Petroglyphs and then headed to Gooseneck State Park to see the huge winding stripped valley carved by the river.
We then headed for the Valley of the Gods. Valley of the Gods was spectacular and one of my favourite places of the trip. We loved how close we were able to get to the structures. The car ended up completely coated in a bright red sand which stayed with us for the rest of the vacation!
Never ones to skimp on how much we could jam into a day, we finished off the day with a trip to Natural Bridges National Park. After looking at a couple of bridges from afar, Sascha, Aly and I decided to take a short (but extremely hot) hike under one of the bridges (Zoe was refusing to go on any more hikes that day, and Toby was more than happy to stay with her).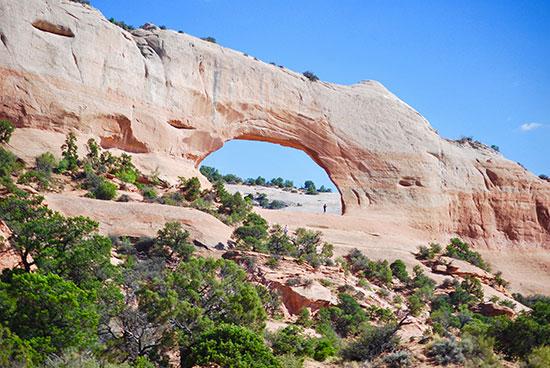 Next day we headed to the Grand Canyon (Arizona) via monument valley (where we stopped to see the eclipse).
We arrived at the East Rim of the Grand Canyon right before an electrical storm rolled in. We headed back to the hotel to wait out the torrential rain and then headed to the South Rim in time for a lovely sunset walk along the rim. I couldn't believe how few barriers there are along the rim and how many people were perched precariously dangling their legs over the edge (many of them taking selfies).
I didn't realize how much there was at the bottom of the Canyon – all the vegetation, mesas and, of course, the river (which you can barely see because it's so far down).
We were headed to Phoenix next to meet up with our friends, and old colleagues, Damien and Linda Drake (and their two kids).
Shortly after leaving the Grand Canyon we stopped for breakfast at the town of Williams along route 66. We ate at an awesome diner.
The drive in through the forests of cacti was fascinating. We had a fantastic evening with the Drake family, and all the kids got on incredibly well. The last time they had met, the three older kids were only about 3 or 4 and the youngest two hadn't been born yet.
It was a shame we weren't able to spend longer with them. It's their turn to visit us again next, and we're hoping it won't be another 11 years. We stayed at a lovely place in Phoenix. It was a shame we really only slept there. The number of bugs we arrived back to when we got to the hotel after dinner was somewhat alarming!
Next morning I had a work phone call and perched in the one shady spot on the balcony, but it was approaching 40 degrees at 8 am, and I kept having to stick my head inside the room to grab a breath of cool air.
Onwards to Las Vegas (Nevada). I was surprised how much there was to do with kids. Aly went on the roller coaster at New York New York while the other two played in the arcade, and they all enjoyed rides at Circus Circus. Aly and I went on the X-Scream at the top of the Stratosphere tower.
The kids loved the M&Ms, and Coke shops (where Toby and I tasted all the strange Coke flavours from around the world). Toby is now on a quest to move somewhere that has a TopGolf facility after having a ton of fun there (it's a mixture between a driving range and video game).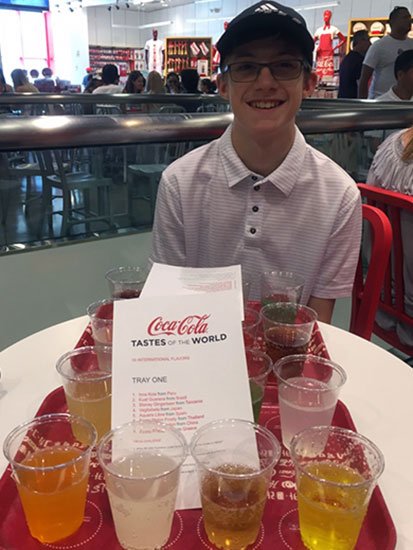 We also all enjoyed wandering around all the casinos/hotels – MGM (which was in a frenzy since we were there up until the day of the Mayweather/McGregor boxing match), Treasure Island (where we stayed), Paris, Venetian (our favourite), The Mirage, Caesar's Palace, Harrah's, and SLS. We spent a lot of time going back and forth on the monorail and walked almost 12kms a day.
Who knew there were still so many smokers in the world? The kids hated walking through the casinos where there was usually a dense cloud of smoke. The swimming pool at the hotel wasn't much better, and it was tricky to get in past all the beer bottle lined up around the edge! Upon reflection, maybe Treasure Island wasn't quite as kid-friendly as we hoped.
Sascha and I missed the sound of all the coins dropping now that everything is on the cards but we didn't let that stop us, and we had a lot of fun on the slot machines.
Aly and I started collecting unusual sights in Vegas. They included:
Someone dragging a large dummy through a hotel
The obligatory drive thru wedding chapels
Sascha saw Elmo saving a guy's life (he pulled him back by his collar as he almost stopped out in traffic)!