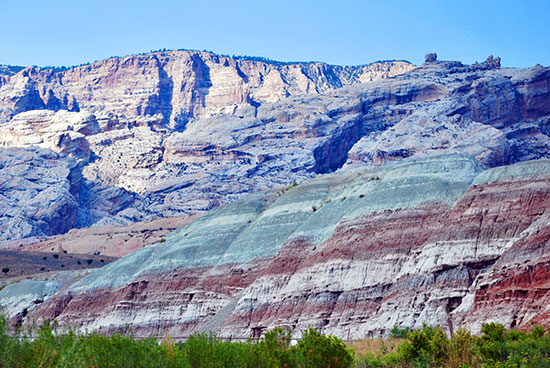 First night of our road trip we stopped just outside the German Village of Leavenworth (Washington) in Wenatchee. We had a lovely (but hot) walk around Leavenworth. We ate schnitzel and spätzle with a side of landjaeger for dinner and as we walked back to the car the German band in their lederhosen were playing the birdie song (chicken dance to North Americans) ?!
Saturday we drove to Coeur d'Alene (Idaho). We stopped on the way in the middle of absolutely nowhere to visit the NW Inland Rail Museum. I was a big fan of the quaint dining car. We also got to ride a little train which turned out to be much more exciting than it looked because it had just started to rain making the track slippery and we almost didn't make it round the loop.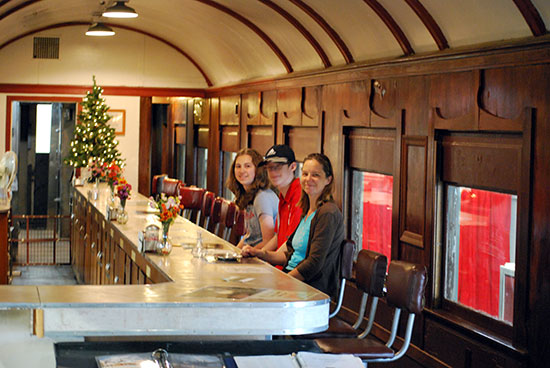 When we got to Coeur d'Alene we stocked up at a Kmart that was going out of business and went to the Triple Play Fun Park where the boys played mini golf and us girls did the high ropes course and climbing (Zoe is absolutely fearless with heights which always surprises me considering she runs away screaming if she sees a puppy or a fly!)
Next day we headed to a KOA cabin near a lake in Townsend, Montana. There were many many flies but we liked the cabin and the flamingo grill which was a restaurant in a pink bus.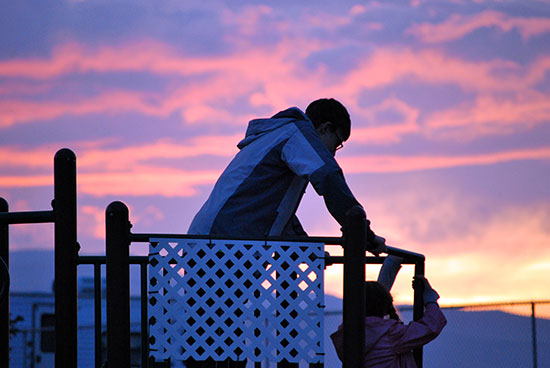 On the way to Townsend we stopped in the mining town of Wallace where we got the tram up to the silver mine. We all wore fetching helmets. It was very interesting, although Zoe was very unimpressed with the volume of the mining equipment!
Next day, we headed straight out to the caverns in Lewis and Clark State Park. There was a hilly 1 mile hike into the extensive, spectacular winding caverns which included a slide and lots of stooping for the taller amongst us (finally, us girls could be smug about our height).
Unfortunately on the second evening, I went for a shower and came back to find Toby sitting on the porch swing in his socks and the door to the cabin firmly locked (Sascha was with the girls at the playground). Thus ensued a couple of hours of trying to troubleshoot how to get into the cabin since the office had shut hours ago.
The car keys were in the cabin and there were no taxis in the area. We tried remotely accessing the car (to no avail – it's a new car and we hadn't set up remote access yet) and called to check if the one (dodgy) motel in town had any rooms (they did and were half the price of the cabin!). Meanwhile Shoeless Toby did some googling about how to pick a lock with only a pair of nail scissors. We were about to make friends with some neighbours to see if they would drive us into town, when Sascha decided to give breaking into one of the windows another try. I found a metal garden stake and that seemed to do the trick. Phew! I don't think I'd ever been so happy to be in a cabin without a bathroom!
Next was Yellowstone (Wyoming) – somewhere I had always wanted to go. The park was busier than anywhere we had been and we decided to head straight for Old Faithful since the timing is important (it only erupts every 90 minutes or so and they only predict the next eruption after the previous one).
We couldn't believe the sights we saw on the way to Old Faithful – there are so many fumeroles, brightly coloured bacterial mats, and steam vents along the roadside for miles and miles. It really has to be seen to be believed.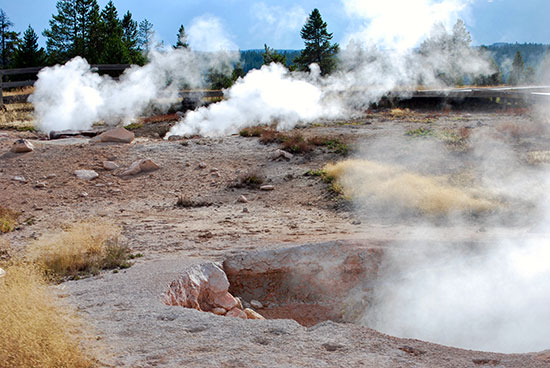 The Old Faithful parking lot is the size of a theme park! It is almost an arena event. There are two rows of seating 180 degrees around Old Faithful lined with people full of anticipation. The timing is only accurate to the nearest 20 minutes or so, so once you're seated you really don't want to risk leaving your seat! It was worth the wait. There is a smaller geyser next to Old Faithful which started to gurgle and steam a couple of minutes before the main event which really heightened expectations! The eruption itself was definitely spectacular. The thing that struck me the most was the volume of water raining down.
After Old Faithful we headed to the Grand Prismatic Spring. It was a little chilly but the nice steamy facials that arrived regularly were very helpful. We had opted out of the hike to overlook it so didn't get the full effect but the colours were beautiful.
Finally we stopped off at Fountain Paint Pot nature trail since I really wanted to see some bubbling mud pots. This turned out to be a very compact trail with a little bit of everything. There was a mini rainbow coloured spring, the amazing bubbling Paint Pots (mud pools), steam vents, fumeroles and geysers! What more could you ask for?
After all the excitement we headed back to the cabin where we grabbed some wood and toasted marshmallows (we were surprised to discover there was no fire ban on this part of the country yet). There was a great view of the milky way in Yellowstone.
As we left Yellowstone, we gave a guy in a truck a jump start at the KOA. We were happy to help, but as Sascha said, you probably don't say no to a guy wearing a gun that big on his belt!