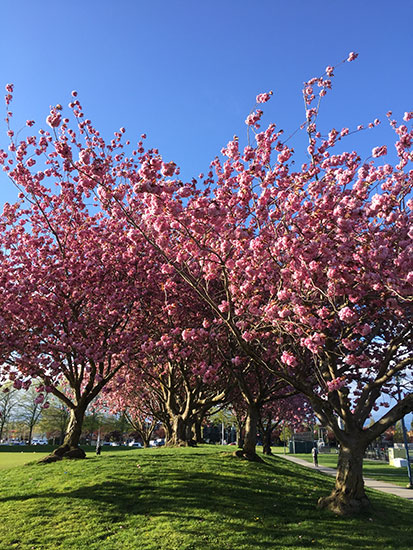 Thank goodness for some sun at last.
On my quest to get some exercise everyday, and the arrival of a folding bike for my birthday last year, I've been attempting to get out on my bike and explore the corners of Richmond I don't usually see from the car.
My resolution to post a photo a day on Instagram is also going well and is a great incentive to make sure I leave the house (not always a given for someone who usually works from home).
I finished up a year of work with Richmond Food Security at the end of last month. I've been able to implement some great new systems for them and look forward to seeing them to continue to grow.
Quick update on what the kids are up to…
Zoe has been remarkably consistent with wanting to take ice skating lessons and her backwards skating is coming along nicely. She's also become great on her bike and wants to take riding lessons again this summer.
Toby's soccer season finished, but is in the middle of a session of goalie clinics. He's also in the table tennis club at school (all that table tennis practice should come in handy when he's a programmer in a tech company and that's the only reason to come out of the basement!)
Aly is still on a quest to save the world – she MC'd the REaDY summit – a Richmond environmental conference. She also become a Butterflyway Ranger – helping to save pollinators. Now if only she could remember which way to turn out of the driveway to get to work every week, she'd be ready to leave home!
Aly just turned 17. She had a lovely tea party at home. I can't remember the last time she was actually at home for a birthday party. There won't be many more of them :,-(
Aly went on a trip to the Juan de Fuca trail on Vancouver Island a couple of weeks ago. They waded through mud and slept under a tarp for 3 nights. Sounds like hell to me but it looked very pretty
She's also still obsessed with comic books and all things Marvel. Rather that than drinking and boys!
I guess I also haven't blogged since Easter. Zoe had a very successful egg hunt..
My blogging performance has been atrocious as usual over the past month or so. Can it make it through 2017? I guess we'll find out!