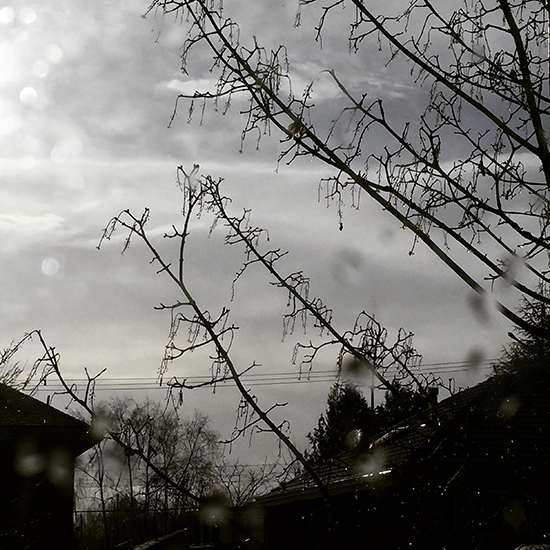 Ugh, January sucks. Sascha had to go to Europe for a couple of weeks on New Year's Day and I found it really hard to get back into everyday life after the blissful winter break. The pretty snow all turned to grey skies and drizzle and life returned to normal. Anyway, enough moaning about me, onto moaning about pets! For a family that never usually has any pets, it's been a very pet-intensive few months!
You might recall that we finally got Merlin the rabbit back after his escapades around the neighbourhood for 18 months. Unfortunately, it seems like we might have been able to catch him because he'd either had a stroke or eaten something poisonous which means we're not sure if he can see and he has a lot of balance/mobility issues – poor guy. The 2 rabbits were not happy to be reunited so we kept Houdini on the covered balcony and put Merlin inside in a cage (door open – but he generally refuses to come out).
Sadly, Zoe had the misfortune of finding Houdini on the balcony one morning after, what we assume was, a raccoon attack. Although we felt as though he was safe from eagles because it was a covered balcony, we hadn't factored in racoons being able to climb up and get him. He had a wonderful life on the balcony surrounded by lettuce and herbs to nibble at whenever he fancied and a big pot of dirt to dig in when he got bored.
A couple of weeks ago, Merlin started to scratch a lot. Unfortunately, when he scratches, he loses balance and falls over and ends up with dust in his eye and ears. The vet thought he might have an inner ear infection. So ensued the task of trying to persuade Merlin that he wanted to drink antibiotics twice a day for a week. After day one Merlin was definitely onto us and Toby had the scars to prove it. After talking to the vet, we all agreed on spiking a slice of banana twice a day which is going MUCH better!
In the meantime we needed some fish for the aquaponic system the kids got me for Christmas (the plants purify the water for the fish, the fish water gets pumped back up to fertilize the plants and everyone is happy (or so we hope). Buying fish that will stay small enough for the smallish tank, can cope without heat and won't eat one another proved trickier than we thought. We ended up with a male and female beta – James Pond and Branston Pickle. Now we just have to cross our fingers that they don't get too stressed out by the water pump or we don't end up with a tank full of baby bettas that start eating each other. The fish world is apparently a very violent one.