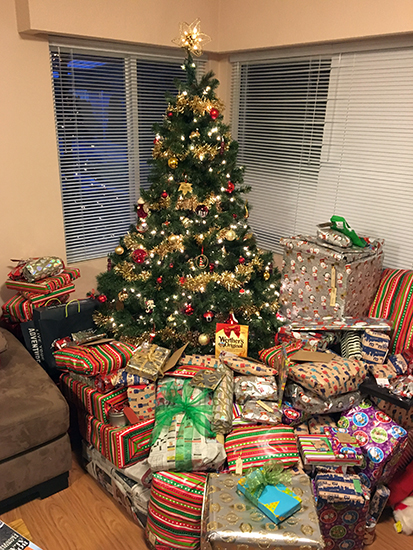 Time really does fly when you're having fun. My last blog post seems to have been Nov 26, although I have written and or published a few for unblog.com in the meantime.
Zoe had a (very-easy-for-me) birthday party at Kidtropolis (where Aly works). They all had a great time. For an 8-year old, she was incredibly difficult to buy for this year – not helped by the fact her birthday and Christmas are only a week apart. I remember the days when kids used to like toys. sigh! The big hit was the nerf gun (Aly bought her and Toby matching nerf guns). Between that and the indoor snowball kit the kids bought Sascha there was a lot of mayhem in the house!
It was our turn the host Christmas this year so 11 of us snuggled into our house for a week or so. I am VERY happy to announce that I don't think I've ever played so many board games in my life. When I was a child I used to beg people to play games with me. I'm not sure why, when I have children of my own, I still have to beg them to play games with me! Anyway, Christmas seems to bring out the best in them (that, or they are resigned to the fact they need to play!). Toby got Ticket to Ride from us for Christmas and it's become the new family favourite.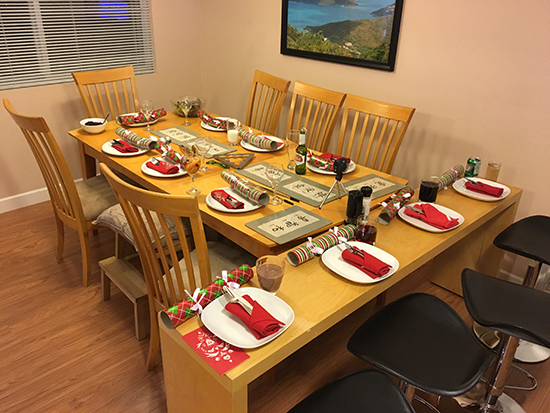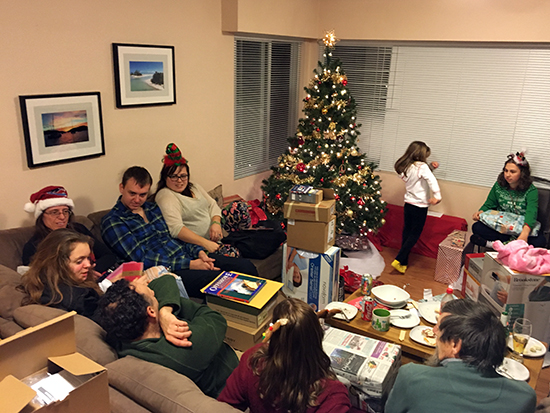 We did a great family trampolining/bubble football/dodgeball session courtesy of Nikki and Fabio. Nikki and I managed to fit in a quick climbing session where I managed to scrape through my belaying test after a year of forgetting everything I knew about climbing! We also did a murder mysterious night (cousin Dani is apparently the one to watch out for!) and paper-crafted a very cute Christmas village.
Sascha got a 360-degree camera so you might soon be able to completely relive every moment of our Christmas from every possible angle if you have a good 20 hours to spare one day!
There's been plenty of snow this winter so far (very unusual for Vancouver). In fact, the only days where the snow had completely (temporarily) melted were Christmas Eve to Boxing Day – typical!
I'm wondering if this year might have marked the official death of the Christmas card. I only really received one or 2 outside of close family (which I have not taken an offense to – I quite understand) and the whole process started to feel a little pointless.  The people I was sending cards to had probably already seen the photo I was including about an hour after it was taken on social media. Aly and Toby are planning to leave home in the summer of 2018 so perhaps I'll hang out one more year and send the last family card in 2017.
I'm struggling to come to terms with going back to work officially tomorrow. I have worked here and there throughout the break but completely on my own terms whenever, and wherever I felt like it. That's what I would love 'retirement' to be for me.
As for new year's resolutions. Last year I had got into a really great routine for most of the year – but things started to slide after our summer road trip.
Here are last year's resolutions:
Exercise every day for at least 5 minutes – I'm starting small and manageable in the hope I'll become one of those addicted-to-exercise people that are rumoured to exist!
Hide Facebook posts by friends of friends to try and improve my Facebook feed (no offense – I'm sure they're all lovely people, but I don't know any of them and they're taking up about 80% of my feed at the moment).
Do an exclusion diet (and in doing so, try not to introduce too much sugar back into my diet when I'm allowed to add it back in)
I did get as far as 7-10 minutes of exercise every day but then when we got back from our road trip in the summer the exercise started to get a little spotty
Total success – this worked really well but will always be a work in progress (unless you people could kindly all stop adding new friends 🙂 I highly recommend doing this (click the arrow to the right of the post, click 'more', select 'hide all from [person x]' – it's a little time consuming initially)
Did the exclusion diet and got to add eggs back into my diet – yay!. I definitely cut back on sugar but there's still plenty of room for improvement [she says while eating a bowl of frosted flakes – oops!]
…so resolutions for 2017:
Get back into flossing every single day (no excuses) – Unfortunately, after I had surgery for a deviated septum in November it only took a week of not being able to floss for that 'habit' to become a little lackadaisical.
Exercise for at least 5 minutes every day – again.
Instagram a photo a day. I've never bothered with Instagram. Maybe because I have a long standing protest against hashtags but I've resigned to the fact that they might not become obsolete for another few years yet and I figure I don't need to hashtag if I'm really only using it to record a photo a day. peta_unblog #hatehashtags