On Sunday I dropped Sascha at the ferry (to go on a successful boat hunting trip with Dani and Toryn), dropped Toby and Zoe at Splashdown and then went back to the ferry for Aly. We spent a chilly few hours at Splashdown. It was only around 16 degrees and Toby and Zoe refused to leave the hot tub but Aly and I dashed around and did each slide at least once. We had got a family pass at a silent auction earlier in the year and Splashdown was closing down this weekend so we figured we'd better go on the day it wasn't raining.
After Splashdown we headed home to play Wii Party today and then watched Good Dinosaur. It was lovely to have the three of them back together. I even saw Aly and Toby laughing and joking around together!
School started on Tuesday (well – for an hour or so – each child had to be there at a different time and Aly had to be at school twice). It was a relief when Wednesday came around and they all left for a whole day!
Thursday at 6am, Aly and I had to be up to get her to the ferry to head BACK to Vancouver Island – this time on a 5-day sea kayaking trip with school. It was good I got to spend a few hours with her in between!
Toby's birthday was the first day back at school. 15 already – and apparently about twice my height! He got flying lessons for his birthday. He's about halfway through his ground school portion (he goes every saturday morning from 8.30-11) but has a lot of flying hours to do before he can get his license. In the evening we nipped over the border to Point Roberts for Toby birthday dinner.
There were 6 gas stations open but no restaurants so we filled up the car and headed back over the border to Five Guys Burgers and Fries in White Rock (which was a big hit with the burger fans). Friday after school we also went go karting (and I'm quite pleased that I managed to overtake the other mom in a double kart even though Zoe didn't want me to go very fast!)
This is Point Roberts – a little dangly bit hanging off the end of Tsawwassen (where the ferries leave for Victoria)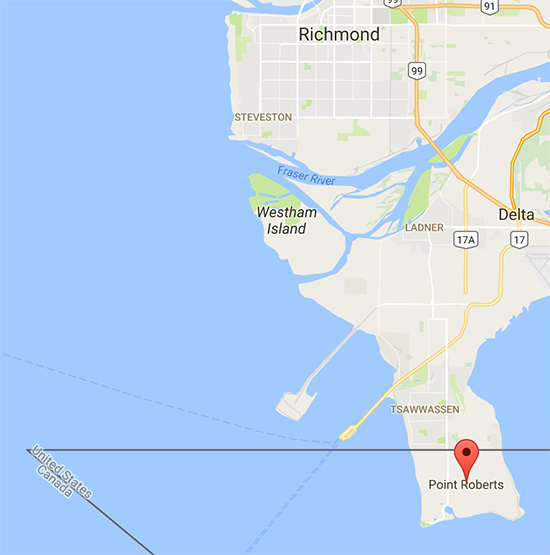 The first week of school seems to have been a success. Zoe is back in the same class with the same teachers as last year (thank goodness – this week was literally the first time she's been brave enough to ask them anything – it can take her a little while (ie. a year) to get used to a new teacher!) Aly has a whole lot of catching up on schoolwork when she gets back from her trip so I'm hoping she will hit the ground running and not still be in vacation mode!
In other news, Zoe learnt to ride a bike in the last week of the summer – hooray! Thank you Pedalheads. She also agreed to narrate the videos of both our road trip in the East Coast US Road Trip, and our 2 months on a Caribbean Trip (be warned – they're long!):